Questions & Answers: Riding METRO
On this page, you can get answers to common questions about riding METRO, all in one place.
Riding METROLift
An ADA accessible minibus (pictured first) or minivan (pictured second). Both accommodate a variety of mobility devices including wheelchairs, scooters and walkers.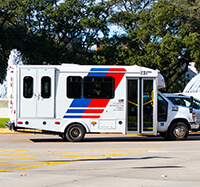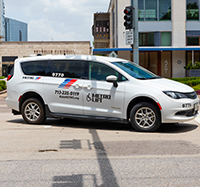 Although you don't get to choose which vehicle will pick you up, the size of your mobility equipment could determine vehicle type.
Service animal
Yes. You're allowed to travel with a service animal.
Service animal means any guide dog, signal dog, or other animal individually trained to work or perform tasks for an individual with a disability, and must be kept under the handler's control.
Non-service animals (including emotional support animals)
Yes. You're allowed to travel with non-service animals (pets) on METRO vehicles, but they must be transported and properly restrained in an animal carrier at all times.
Please call METROLift Dispatch at 713-255-0410.