Mon-Fri: Runs every

15 min. *

Weekend: No service
* For most operating hours. Exact times may vary.
Accessible Vehicles
Free Wi-Fi
Fares
For all Park & Ride Bus customers who aren't eligible for a discounted fare.
* For students, seniors 65-69, or people with disabilities who aren't METROLift customers.
* Requires discounted fare card
Next Bus Arrival
There are various ways that METRO can provide you with reliable, estimated bus arrival times. These real-time updates allow you to stay informed and avoid delays.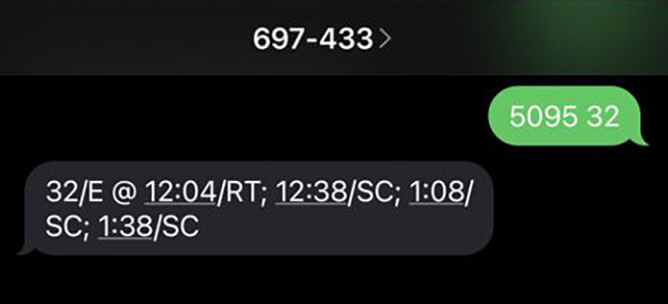 Receive the next bus arrival time directly to your phone. Text your bus stop number followed by a space and your route number to 697433. You'll receive a text back with the estimated real-time arrival (RT) and scheduled arrival time (SC) of the next buses at your stop.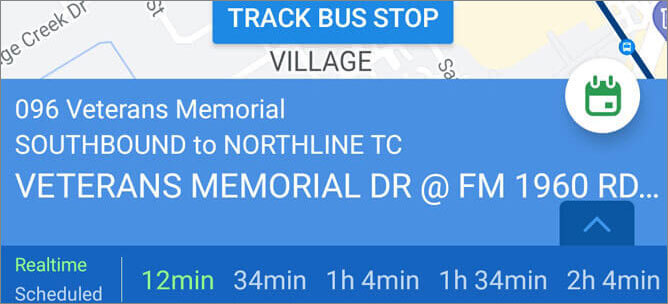 See the next bus arrival times by using the map to select the location where you'll begin your trip. Select your bus route from the routes shown along the left side of the screen and then choose the direction you're traveling in. Real-time arrivals are shown in green and scheduled times are shown in white along the bottom of your screen.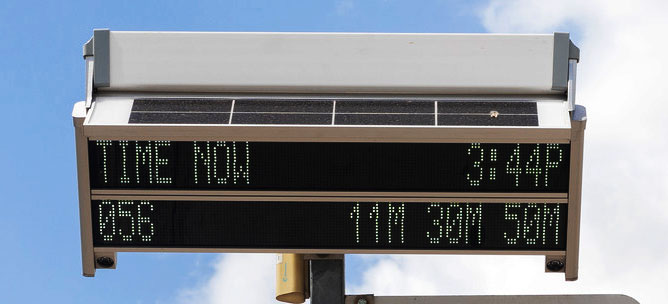 See real-time bus arrival information on digital signs that have been installed at select METRO bus stop locations and transit centers throughout the region. Screens also feature service alerts, detours, stop closures and other METRO announcements. Digital signs will continue to be added as part of the METRONext Moving Forward Plan.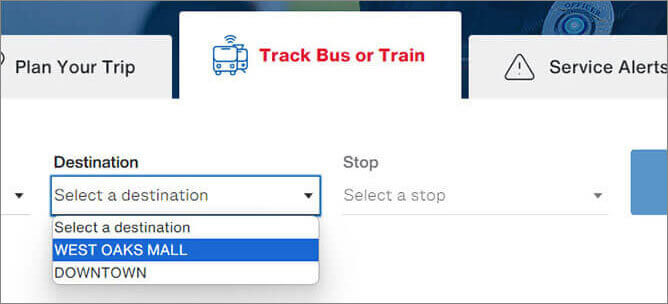 Track Your Bus or Train directly from the homepage of the METRO website. Select your route, destination and stop. Click or tap on Track Now and you'll see the route number and estimated wait time for the next bus.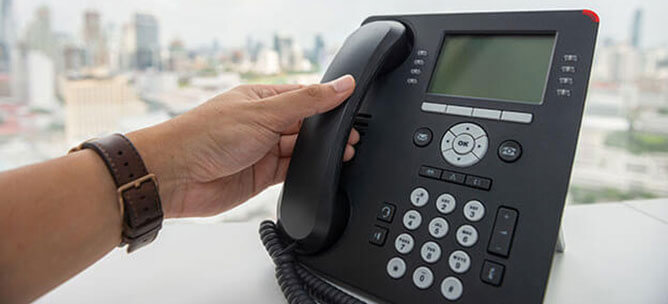 Reach METRO's automated next bus arrival system by calling Customer Service at 713-635-4000. When prompted, enter your bus stop number followed by your route number, or press the pound sign (#) for stop number lookup. Real-time and scheduled times of the next buses at your stop will be recited.
Select Another Route
If you'd like to explore other METRO local bus routes, select one below. Otherwise, you can scroll down to view Common Questions about riding a local bus or access Rider Tools to plan your trip.
Fares
The regular fare to board is $1.25
The discounted fare is 60 cents.
The following passengers ride free:
Children five or younger, accompanied by an adult
Seniors 70 and older who have a discounted METRO Q® Fare Card
Disabled or decorated veterans who have a METRO Veterans Pass
METROLift customers with a METROLift Freedom Q® Card, and up to one assistant
You can pay your local bus fare using any of the following:
METRO Q® Fare Card
METRO Q Mobile Ticket
METRO Day Pass
METRO Money card
Cash
The All About Fares page has information on where you can obtain various fare cards.

If you pay your fare using a METRO Q® Fare Card, METRO Q Mobile Ticket, METRO Day Pass or METRO Money card, you're entitled to free transfers between any of these METRO services for up to three hours in any direction:
Local bus
METRORail
METRORapid
METRO curb2curb
For transfers to Park & Ride bus service, you only pay the fare difference for up to three hours in any direction.
If you wish to pay with a mobile ticket and plan to ride or transfer to a Park & Ride bus during your trip, you'll need to purchase and activate a Park & Ride mobile ticket. It's valid for three hours once activated and entitles you to free transfers between any METRO service of equal or lesser value during that time.
Only regular fare mobile tickets are available for purchase.
Trip Planning
A route selector is accessible directly on the website home page, linking you directly to a page for the local bus route of your choice.
At the top of each individual route page, you'll find:
Frequency of service on weekdays and weekends
Stop-by-stop schedule
Link to view PDF schedule which you can then download and/or print

On the METRO website, there's a route map on each individual route page.
You can also use the website's Interactive System Map (best viewed on a desktop or laptop computer). In the bus section of the map, you can check a box next to any METRO bus route and the map will draw a line showing the entire route and where it runs.
If you'd prefer a physical map, we include a map image in the printed brochure for each individual bus route. Brochures are available for free at all METRO RideStore locations:
Downtown Transit Center - 1900 Main St.
Fannin South Transit Center - 1604 West Bellfort St.
Main Street Square - 1001 Travis St.
Northwest Transit Center - 7373 Old Katy Road

Trip planning tools are available on:
Various pages of the METRO website, including the home page
RideMETRO app for your smartphone ("Plan Your Trip" section)
METRO TRIP app for your smartphone
Google or Apple maps
Prior to arrival
METRO local buses make stops at the following locations
Along city streets, at intersections where you see a METRO bus stop sign and/or bus shelter
At select Park & Ride lots around the region
At more than 20 transit centers around the region
All METRO buses have large, bright destination signs on the front of the bus above the windshield and along the passenger's side, near the front door. These digital displays include the route number and destination.
Route Alerts or detours could affect your vehicle's arrival time and/or the length of your trip. Subscribing to receive this information is a convenient way to know before you go.
On the METRO website, you can subscribe to receive notifications direct to your phone or email for the bus, rail, METRORapid and/or METRO curb2curb routes of your choice.
The quickest and easiest signup option can be found on each individual route page.
If you prefer, there's also a Get Text and Email Alerts page where you can subscribe to multiple routes simultaneously.
All subscriptions are free and you can unsubscribe at any time.
If you don't wish to subscribe, you can use any of the following:
Routes and Schedules tab on METRO website home page - it will transport you to your route page. If there are any active alerts, a link to view them will be visible near the top of the page.
RideMETRO app (click or tap Service Alerts on main menu)
METRO TRIP app (a red triangular icon will appear on the screen if your selected route is experiencing a service alert)
Trip planning tool, which can be accessed in multiple places. More information about that can be found in the Trip Planning topic (see question titled "How do I plan my trip?")
METRO offers a rider tool called Next Bus Texting. To use it, you'll need to know your stop number. It's posted on the bus stop sign at every bus stop location. Just text that stop number to 697433. We'll then text you back the scheduled arrival time (SC) and estimated real-time arrival (RT) of the next bus for all routes that stop at your location.
Estimated arrival times can also be accessed on:
METRO website home page ("Track Bus or Train" tab)
RideMETRO app for your smartphone ("Track Your Bus" section)
METRO TRIP app for your smartphone
Automated phone line by dialing 713-635-4000
Google or Apple maps
Increasingly, estimated arrival information will also be displayed digitally at bus stop locations and transit centers throughout the region. Transit centers are sheltered waiting areas where you can transfer to other METRO routes and services that provide access to even more destinations. They're often found at the beginning or end of a bus route.
These digitally displayed passenger information enhancements are part of the METRONext Moving Forward Plan, to create a better customer experience.
Riding
If you don't require assistance, enter through the front doors, pay your fare and choose an open seat. Please avoid sitting in the priority seating areas for the elderly and people with disabilities, marked by the International Symbol of Access (Wheelchair Symbol).
If you're using a wheelchair, mobility scooter, or walker, wait for the operator to activate an accessible ramp which will allow you easy access through the front doors. You can then pay your fare and proceed to one of the priority seating areas.
Any METRO fare card:
Tap your card on the validator and the fare amount will be deducted. If you prefer to go contactless, you can wave your card close to the validator as well. Make sure the light registers green in the upper right when you tap or wave.

METRO Q Mobile Ticket:

Activate the ticket on your smartphone before boarding. It will display animated colors and motion on your phone. Show that to the bus operator as you board.


Cash:
Deposit cash and/or coins into the farebox when you board the bus.
No change is given and transfers to other METRO services aren't included.
Yes, based on the guidance below:
Service animals
You're allowed to travel with a service animal.
Service animal means any guide dog, signal dog, or other animal individually trained to work or perform tasks for an individual with a disability, and must be kept under the handler's control.

Non-service animals (including emotional support animals)
You're allowed to travel with non-service animals (pets) on METRO vehicles, but they must be transported and properly restrained in an animal carrier at all times.
Rider Tools
Below are some tools to make your METRO riding experience easier and more convenient so you can drive less and do more.
System Map
Explore METRO transit services near you
Questions and Answers
Valuable information to help you ride
Savings Calculator
Compare your cost of driving vs. what it would cost to ride METRO - and see how much money you'd save each month.