July 2023
Meet Dante, the METRO Kid!

While growing up, Dante Arceneaux spent many weekends traveling around Houston with his beloved grandmother on METRO.
Arceneaux says she preferred taking public transportation to the hustle and bustle of Houston traffic, often taking her grandchildren along with her on rides, including visits to popular Houston-area destinations on the weekends.
Today, Arceneaux is a junior at Lamar High School and says METRO still plays a significant role in his everyday life. The 17-year-old wakes up each morning and rides his bike to a nearby bus stop to catch the 14 Hiram Clarke, which takes him to the Red Line. From there, he boards the 82 Westheimer to school. He says that although the trek takes more than an hour, he wouldn't have it any other way.
"I enjoy the diverse scenery, the opportunity to save money - especially during summer when METRO is free for students - and the chance to discover new things while riding transit," he said.
Transit also allows Arceneaux to participate in extra-curricular events like stunt biking and serving as an athletic trainer for the football team. Events often take place after school or off-campus.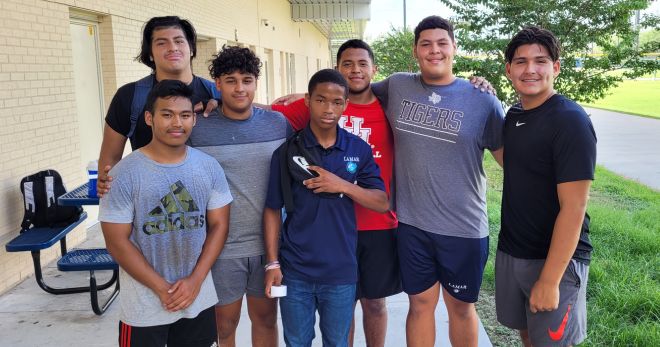 After-School Connections: Arceneaux says serving as an athletic trainer for his high school football team is possible because of METRO.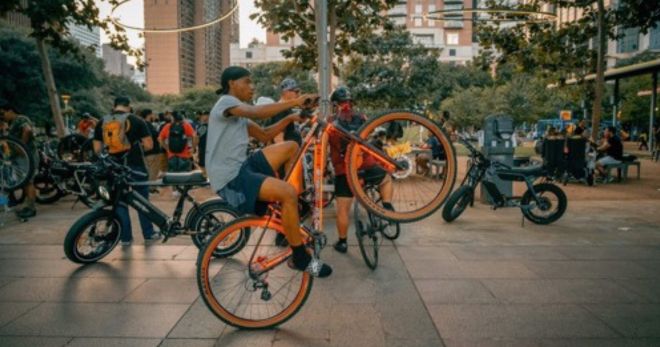 Buses & Bikes: Arceneaux is a stunt-bike enthusiast who says he takes METRO to local rides.
Arceneaux adds that he especially enjoys the sense of community found while riding METRO. Over the years, the teen has formed friendships with other riders and bus operators. He counts Keith Hartgrove, a METRO bus operator, as a positive influence and mentor.
"Mr. Hartgrove was my driver on the 82 Westheimer last year," said Arceneaux. "I really enjoyed our conversations and the advice he would give me. In many ways, Mr. Hartgrove was a father figure to me. He works on a different route now, but I hope I'll get a chance to see him again one day."
An avid transit fan and rider, Arceneaux said he's known as the METRO Kid at school. In addition to knowing the make and model of every METRO bus on the street, he also possesses a seemingly encyclopedic knowledge of routes throughout the city. He frequently offers trip-planning advice to fellow students and new riders. The teen said the best way to learn how to use transit is to start riding it.
"The simplest route to learn is the Silver Line near the Galleria. It travels along Post Oak Blvd., from the Westpark / Lower Uptown Transit Center to the Northwest Transit Center and back. The buses are nice, and it's practically impossible to get lost," Arceneaux said.
He believes students, especially, should take advantage of what METRO offers. As Arceneaux demonstrates, public transit can be a great way to explore new places and meet new people, making it a valuable experience for young people looking to broaden their horizons.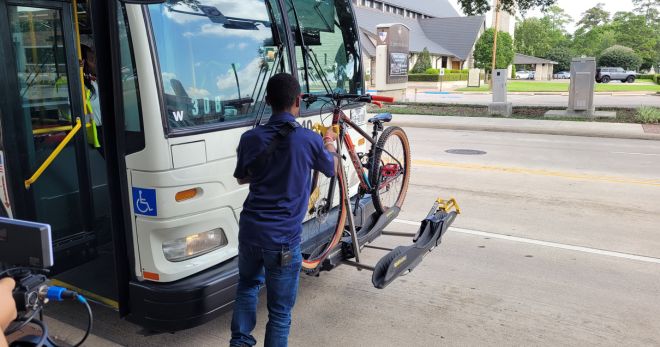 Transit Superpower: Arceneaux possesses a seemingly encyclopedic knowledge of transit routes throughout the city and frequently offers trip-planning advice to fellow students and new riders.