November 2022
Enjoy Uptown Lights on the METRORapid Silver Line

The holiday season is here, and Uptown Houston's holiday lights have come to life in a spectacular showcase of more than 300 illuminated holiday trees lining Post Oak Boulevard. But did you know the display, which extends nearly two miles from the West Loop to Richmond Avenue, can be viewed entirely by METRORapid service?

That's right. You can get a front-row seat to Uptown Houston's holiday lights on the Silver Line. Here's how:
Download the RideMETRO app. METRO's universal mobile app is an all-in-one toolkit with everything you need to ride METRO bus, rail, and METRORapid services. It's easy to use regardless of how often you ride.
This convenient app allows you to go cashless and purchase fares in advance with METRO Q Mobile Ticketing. Transit fare is $1.25 per person and is valid for up to three hours.
Board at METRO's Westpark / Lower Uptown Transit Center or the Northwest Transit Center. Parking at both transit centers is FREE.
Grab your earbuds. The majestic sweeps of holiday lights along the Boulevard are choreographed to holiday music, available through the Uptown Radio app.
Feel free to hop off and hop back on along the way. There are several points of interest along the METRORapid Silver Line route. Explore the Uptown Park shopping center at Uptown Park station or visit the Gerald D. Hines Waterwall Park at West Alabama / Galleria station. The Houston Galleria and an array of restaurants and retailers are also located on the route. Buses run approximately every 12 minutes, seven days a week. See a route map and learn more about the METRORapid Silver Line's hours of operation here. Happy holidays from all of us at METRO! Enjoy the ride!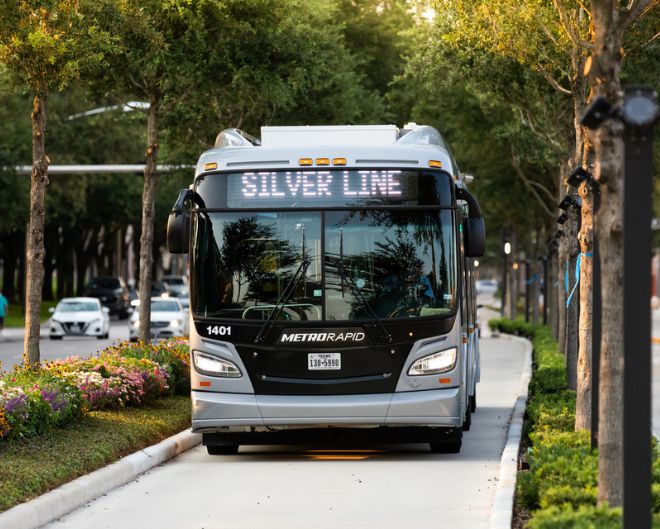 Did you know Uptown Houston's holiday lights can be viewed entirely by METRORapid service?