November 2022
METRO Ready to Roll for World Series Parade

After the Astros defeated the Philadelphia Phillies in Game 6 to win the 2022 MLB World Series, Houston fans were ready to celebrate the championship and METRO was ready to roll.
With an estimated two million people turning out for the big parade downtown on Nov. 7, METRO offered free rides on all its services to help ease congestion and help fans get to the event. There were 105,000 rides on METRORail alone, the third highest single day rail ridership behind the 2017 Championship parade and Super Bowl LI.
From providing directions to the parade route and providing the public with timely updates via social media to ensuring public safety and coordinating buses and trains, METRO employees leveled up, flawlessly executing the Authority's game plan for providing service.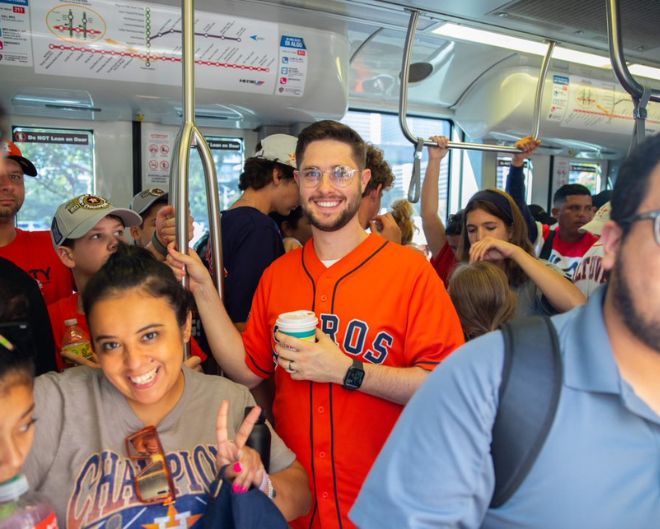 Parade-day trips would surge METRORail ridership to its third-highest one-day total ever.
METRO Safety Training Instructor Astre Dean was one of many METRO employees who volunteered on their day off to serve as ambassadors. Dean assisted riders and offered directions as they arrived at the Downtown Transit Center Station platform.

"I volunteered my time to try and help get everyone down here safely so they could cheer on the Astros," said Dean. "Go, Astros!"

METRO President & CEO Tom Lambert praised the METRO team for their efforts to ensure riders enjoyed safe, clean, reliable, accessible, and friendly public transportation to and from the event.

"While tens of thousands of fans showed up to celebrate and see their favorite players, many also had the best transit experience possible," said Lambert. "We all know when Houston is on the world stage, the city shines."
Watch Video: METRO's ready to roll for Astros World Series Championship Parade.