August 2022
Students Save With Half-Price Fares

As a student, we know your schedule is tight, and your budget is even tighter. That's why METRO offers students half off regular-priced fares throughout the school year. Getting where you need to go is easy! Just tap and go with the Student METRO Q® Fare Card.

METRO Director of Client Services Karen Marshall says taking advantage of discounted student fares is a great way to reach their favorite destinations and save their hard-earned cash.

"Instead of spending money on fuel, insurance, parking, and other car-related expenses,
students can save for more important things like school supplies, clothing, food, and housing," said Marshall.

The Student METRO Q® Fare Card offers cardholders an array of other benefits, including:
Half-price local bus, METRORapid, METRORail, METRO curb2curb, and METRO Park & Ride fares.

Tap and go convenience.

FREE three-hour transfers in any direction.

Five free rides for every 50 paid rides.

Card balance protection if a card is lost or stolen.
Getting your card is as easy as completing a METRO Student Q Card registration form online, by mail, or in person at a METRO RideStore.

To qualify, students in grades K-12 need to provide one of the following:
Current school ID.
Class schedule, enrollment form, or report card.
Student METRO fare card registration form signed by a parent or guardian.
College and trade school students must provide a government-issued photo ID and one of the following:
Proof of credit hours.
Current class schedule with tuition receipt.
Enrollment verification letter.
Student METRO Q® Fare Card registration form signed and stamped by the school registrar.
Save money. Get a head start on homework. Decompress after a long day. These are just a few of the many benefits students reap when they take METRO. Learn more about discounted student fares at RideMETRO.org.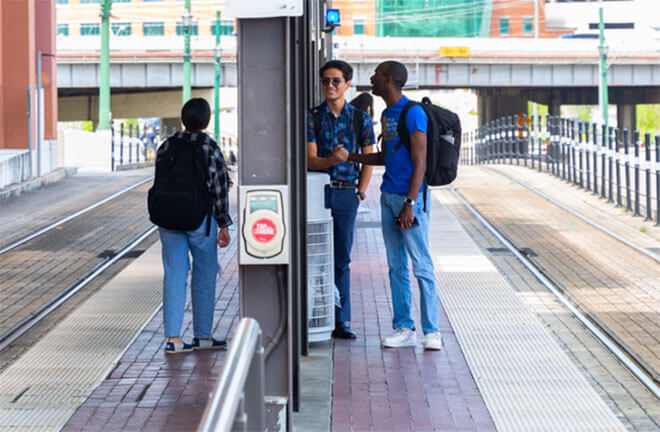 Students with a discounted METRO Q® Fare Card pay half-price fares on local bus, METRORapid, METRORail, METRO curb2curb and METRO Park & Ride service.