October 2023
Another Stride Forward: METRO Unveils Post Oak Road Pedestrian Bridge

METRO proudly unveiled the latest addition to its ever-expanding METRONext portfolio - the Post Oak Road Pedestrian Bridge, a shared-use path near the Northwest Transit Center. This achievement, celebrated in an October ribbon cutting, marks another milestone in the METRONext regional transit plan, designed to enhance mobility and elevate quality of life across our region.
Construction of the steel-truss bridge began in February 2022. It stretches an impressive 600 feet in length, spanning 17 lanes of the Katy Freeway. The 14-foot-wide path offers a safe, convenient way for pedestrians and cyclists to get from one side of the freeway to the other.
It is also a vital link for commuters traveling to and from METRO's Northwest Transit Center and is an important connection to popular destinations like Memorial Park.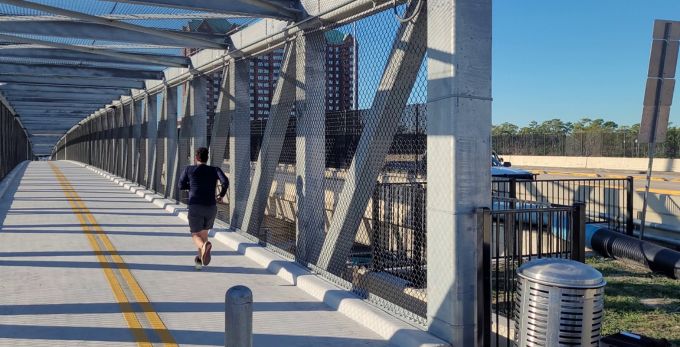 Vital Link: The new bridge stretches 600 feet in length and spans 17 lanes of the Katy Freeway.
METRO President and CEO Tom Lambert extended his gratitude to the METRO Board for its visionary leadership, as well as to the dedicated METRO staff and departments that turned this project into a reality.
"This project is a remarkable addition to Houston's urban fabric, emphasizing METRO's unwavering commitment to forging a more accessible and vibrant city for all," said Lambert. "The Post Oak Road Pedestrian Bridge symbolizes progress, forging connections between people, places, and possibilities. Its realization stands as a testament to the hard work and dedication of METRO employees."
As the Authority continues to deliver on its METRONext initiatives, projects like this are another example of how METRO is working to create a transportation network that connects communities.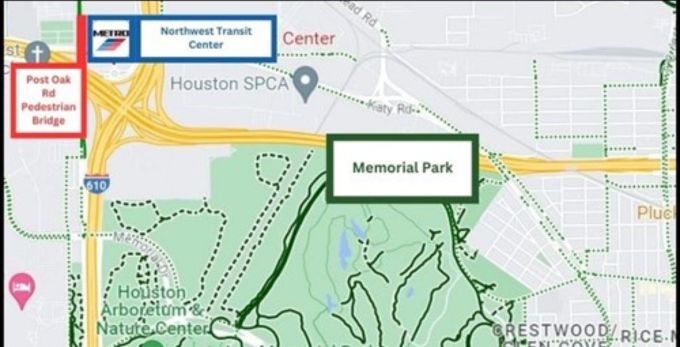 A Safe Path for Pedestrians and Cyclists: The shared-use bridge is crucial for commuters going to and from METRO's Northwest Transit Center and connects to popular locations like Memorial Park.