May 2023
METRO and Local Schools Team Up to Create Art That Moves People

METRO's student-designed bus shelter program is on a roll! On May 24, 2023, a ribbon cutting ceremony was held for the new shelter artwork at a stop near Kashmere High School in the Houston Independent School District. Later that same day, winning designs were announced for METRO bus shelters near five campuses in the Aldine Independent School District.

Ram Pride Grows in the Gardens
In the Trinity / Houston Gardens community, Kashmere Art Teacher Karyn Mason instructed students in her classes to sketch and color a design for the bus shelter on Lockwood Drive near Shreveport Boulevard — part of the fifth segment for the planned METRORapid University Corridor Project.
Freshman Tianna Newell sketched a design in pencil but didn't feel confident adding color. It took some convincing from Mason, but Newell eventually completed the artwork, never believing she had a chance it would be selected from hundreds of entries.
Newell says she experienced a number of emotions at the unveiling.
"Honestly, I was nervous, excited, surprised, impressed. It looks great. When I saw it, I was like, wow, this is big. This is really big," she said.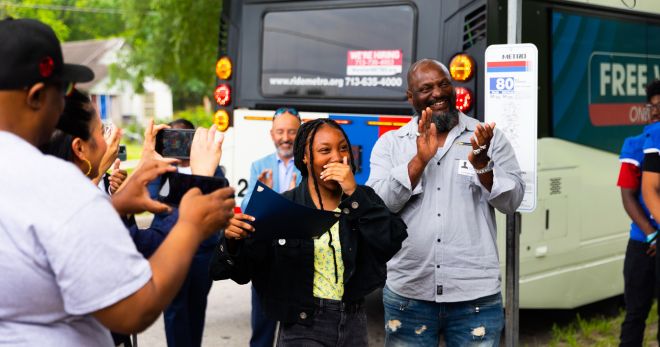 Emotional Unveil: Kashmere freshman Tianna Newell's face says it all as she attends the unveiling of her design on a METRO bus shelter near campus.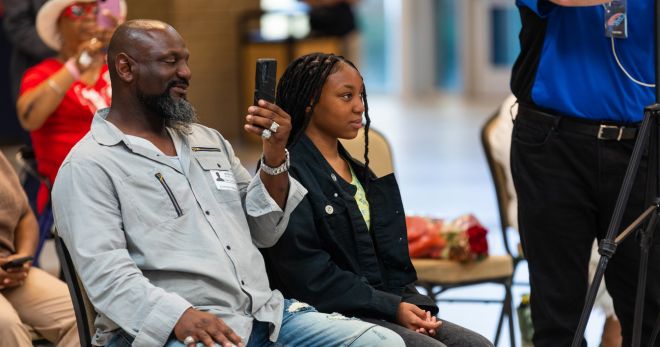 Proud Dad Moment: Sam Earl Newell proudly watched as school officials, along with community and METRO leaders, praised his daughter, Tianna, for her winning artwork.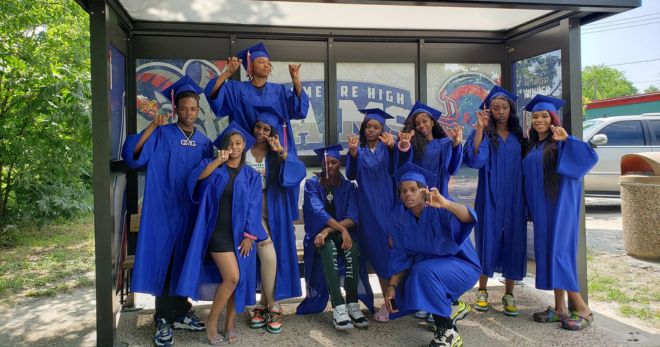 Reason to Celebrate: Kashmere High school graduating seniors pose for a celebration photo in front of METRO's newest student-designed bus shelter.
Excitement in Aldine I.S.D.
It was also a big day for five Aldine I.S.D. students as they learned their designs will be featured on METRO bus shelters near their schools.
"Seeing the community come together to celebrate our students is wonderful and incredibly uplifting," said Aldine I.S.D. Director of Visual Arts Kaileigh Newman. "Everyone from METRO and the school district to students and the surrounding community benefit from this project."


Winning designs were submitted by:
Kathleen Robles, MacArthur High School

Jordan Barnes,

Carver High School
Alondra Gallegos, Aldine Senior High School
Arlenne Rodriguez,

Avalos P-Tech High School

Estefany Ramirez-Gonzalez, Blanson CTE High School
METRO Board Chair Sanjay Ramabhadran congratulated all participants in both school districts for their efforts.
"Every piece that students submitted was fantastic," said Ramabhadran. "We truly appreciate the time and effort each artist put into this competition, and we hope you continue to share your gifts for future endeavors — whether it is with METRO, another community partner, or whatever community you one day find yourself living in."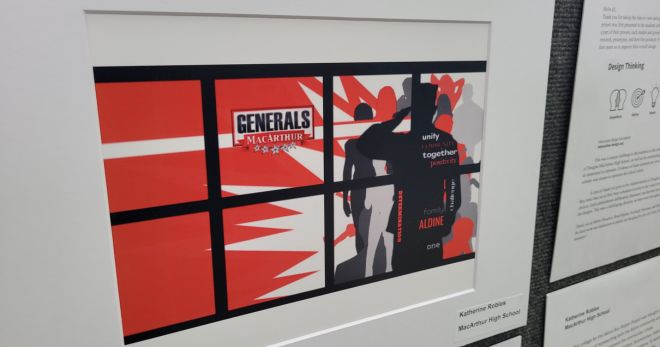 Every Piece Was Fantastic: METRO Board Chair Sanjay Ramabhadran praised students' creative efforts.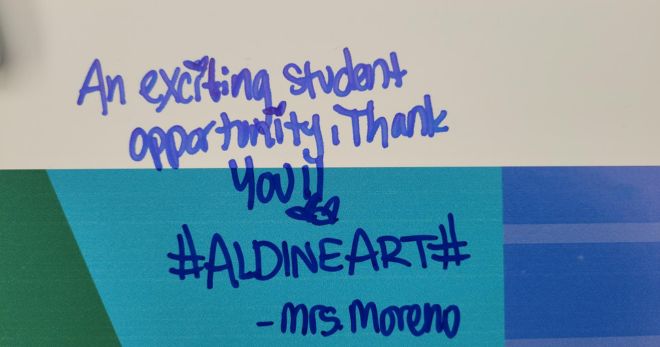 A Heartfelt Thank You: Aldine students, educators and administrators thanked METRO for the opportunity to be a part of METRO's bus shelter art initiative.