June 2023
METRO Takes Additional Steps to Achieve Climate Action Goals

METRO has been working tirelessly to make its climate action plan a reality. The plan, adopted in early 2022, aims to reduce greenhouse gas emissions by 50 percent below 2005 levels by 2030. To help deliver this commitment, the plan calls for:
Procuring only zero-emissions buses by fiscal year 2030.
Minimizing environmental impacts on the health and safety of employees.
Applying green principles to the design and management of facilities.
Promoting energy management and waste reduction opportunities.
Working with other organizations toward shared environmental goals.
In addition to procuring dozens of new electric buses and vehicles over the last year, the Authority has also embarked on making improvements to facilities. METRO's Energy Conservation Project is currently underway at many of them. Workers have been busy upgrading lighting, replacing plumbing fixtures, and making other improvements to reduce energy waste as METRO moves toward a greener and more sustainable tomorrow.
Applying green principles, including energy management and waste reduction opportunities at the Authority's facilities, is the job of METRO Energy Manager Terry Divine, who says the comprehensive undertaking will save METRO approximately $1.5 million annually.
"This scope started as a lighting project and has bloomed into much more. METRO will be changing all lighting to more efficient LED lamps and upgrading our building automation systems to help reduce energy waste in our buildings," said Divine. "We're also upgrading cooling towers and replacing plumbing fixtures with more efficient ones at METRO buildings."
METRO is also planning to harness the power of the sun by adding solar panels at one of its bus operating facilities and installing a large battery to charge buses during peak hours or in the event of a grid failure. Solar panels will also be installed at METRO's Townsen Park & Ride in northeast Houston, supplying the facility with nearly all the power it needs to operate. Divine says he hopes these are the first of many more to come.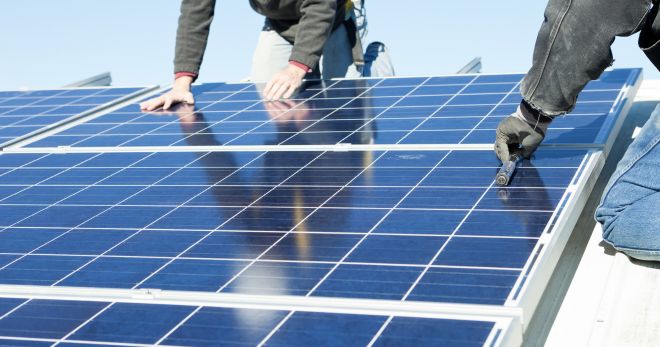 Going Solar: METRO plans to add solar panels at the West Bus Operating Facility and Townsen Park & Ride.
"This will give METRO more resiliency while lowering the energy it needs to purchase," said Divine. "We hope to duplicate this project at other sites to produce our own energy and reduce our dependence on the grid."