August 2023
METRO and Local Leaders Commemorate Park & Ride Funding Secured by U.S. Rep. Al Green

Earlier this month, METRO leadership, Missouri City officials, and executives from NewQuest Properties joined U.S. Representative Al Green to celebrate $5 million in federal funding secured by the congressman for METRO's new Missouri City Park & Ride.
The event marked an important milestone in improving regional transportation and highlighted the value of public-private partnerships. During the event, Green presented a symbolic check for the federal funding.
METRO Board Chair Sanjay Ramabhadran praised Green's efforts, emphasizing the impact of collaboration and saying the federal funds will help enhance transit options.
"This is a great example of 'Together, we can do more' — to bring about safe and effective connections and mobility solutions for a growing population," said Ramabhadran. "Thanks to the efforts of the congressman to secure this grant, the Park & Ride in Missouri City will also bring transit to ongoing development."
Green echoed those sentiments and said the Park & Ride will have a far-reaching impact. "This is a significant step towards better transportation options in northeastern Fort Bend County," said Green. "What we are doing today will benefit future generations."
Watch Video: Groundbreaking at Missouri City Park & Ride.
Representatives from NewQuest Properties expressed appreciation for the partnerships.
"We are thrilled to share this significant development that has come to fruition through the extensive collaboration between NewQuest Properties, METRO, the city of Missouri City, and Fort Bend County," said NewQuest Properties Partner Kyle Lippman. "It is our third partnership with METRO, and we are grateful to Congressman Al Green for his efforts to secure federal funding to support this initiative."
At the heart of the initiative is creating a modern transit facility as part of Phase 3 of NewQuest Properties' Fort Bend Town Center. The new Park & Ride will offer:
1,750 covered parking spaces
Sheltered waiting areas
Ticket vending machines
Real-time transit information displays
Restrooms
Park & Ride services will offer convenient travel between Missouri City and the Texas Medical Center, along with seamless connections to downtown Houston. The facility will also integrate with METRO's existing on-demand curb2curb service.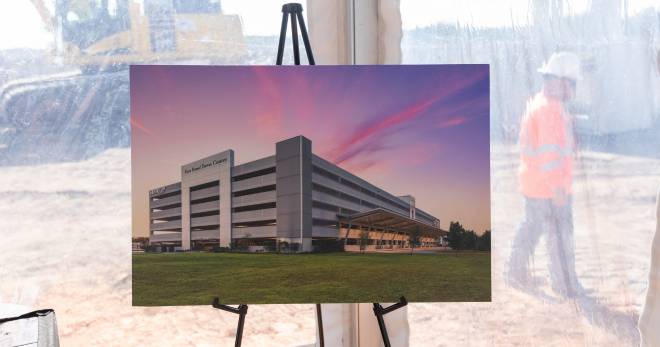 Benefitting Future Generations: METRO's new Missouri City Park & Ride will provide greater access to transit.