March 2023
A Hero Among Us: METRO Bus Operator Helps Critically Injured Carjacking Victim

Debbie Ramos has seen it all as a seasoned bus operator working in the nation's fourth-largest city.
"Every day is different, and each has its opportunities and challenges. You have to be ready for the unexpected," she said.
On a dark December night last year, Ramos had just left the Fannin South Transit Center to continue her shift on METRO's 8 West Bellfort when she encountered the unexpected.
"As I was driving along, I could see from my left peripheral vision, someone running across the median toward my bus," she said.
Ramos could tell the person running toward her was distressed, so she immediately stopped her bus. "I didn't even wait to get to the bus stop," she recalled. "It was dark — very dark. When I opened the door, a man walked into the bus, and as he stepped in, I noticed that he was covered in blood."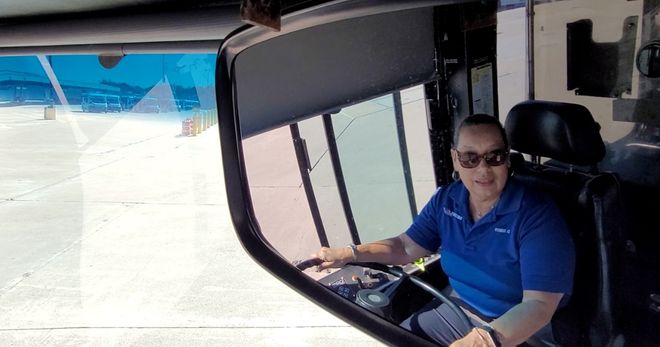 "Every day is different, and each has its opportunities and challenges. You have to be ready for the unexpected," said METRO Bus Operator Debbie Ramos.
The man told Ramos he had just been carjacked and that his phone and credit cards were also stolen. He had been shot in the shoulder and hand and suffered a facial injury.
"He said he needed help," said Ramos. "I told him to have a seat. I knew I had to keep him calm because I could see he was losing a lot of blood."
A passenger on the bus rushed to help the man, wrapping his injured hand with her jacket to stop the bleeding while Ramos stepped off the vehicle to contact bus control and request first responders. As they waited for police and paramedics to arrive, Ramos said the man desperately wanted to call and speak to his mother. The passenger provided her phone.
"We got a hold of his mother and let him speak to her because he felt like these were the last moments of his life," recalled Ramos. "Being able to give him a safe haven was the only thing I knew I could do."
Once police and the ambulance arrived, the man was quickly taken to a hospital. The bus rider, who had used her jacket as a tourniquet, went with him so he could keep talking with his mother. Though Ramos never learned his identity, she was told he survived.
"My job is to get people from point A to point B and to get them there as safely as possible," said Ramos. "If it means going the extra step by helping them in a crisis, that's just part of my job. That's what I do."
Ramos said she doesn't consider herself a hero. As public servants, bus operators are always ready to lend a helping hand to anyone in need.
"That is what I've been trained to do. I just happened to be at the right place and time," she said.
METRO is thankful for employees like Operator Ramos, who go the extra mile to serve our community.
Watch Video: Debbie Ramos recounts how she provided a safe haven to a carjacking victim who was critically injured.