April 2023
TIRR Honors METRO for its Commitment to Accessible Transit

TIRR Memorial Hermann has recognized METRO for its work in supporting the hospital, patients and people living with disabilities throughout the Houston area. To express their appreciation, executives from the medical rehabilitation and research facility personally delivered the hospital's Community Partner Award to the Authority.
TIRR Senior Vice President & Chief Executive Officer Rhonda M. Abbott praised METRO for its paratransit service, METROLift, and the Authority's commitment to paving the road to a more equitable transportation system through its Universal Accessibility initiative. A guiding principle since 2017, it has led to an array of transit facility improvements, including the completion of nearly 5,000 universally accessible bus stops.
"METRO's Universal Accessibility mission is so important to us. In fact, we're designing our own accessible spaces on campus because we want people of all abilities to feel welcome here," said Abbott. "We're thrilled and thankful to see these concepts in public transportation too."
TIRR Sr. Marketing Representative Monica Byars said METRO is vital to allowing its patients to get the care they need, providing curb-to-curb transportation with METROLift, and bus and rail services that are fully compliant with the Americans with Disabilities Act (ADA).
Byars added that when TIRR and METRO partnered to hold a flu vaccine event in 2020, it greatly impacted people living with disabilities – giving them a chance to protect themselves from the illness.
That event is just one example of METRO working with TIRR and other organizations sharing a common purpose – to help people.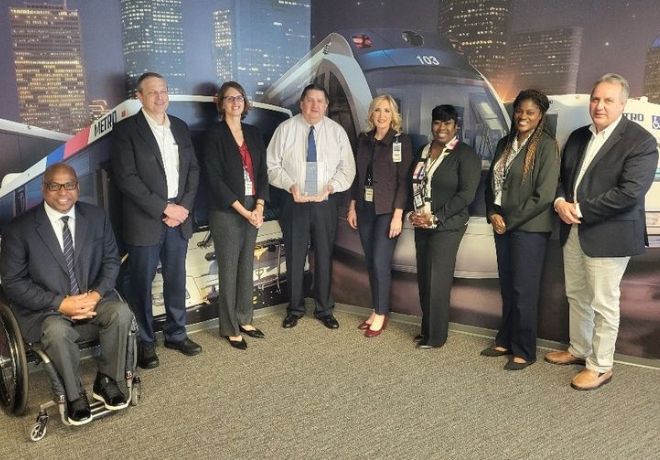 Commitment to Accessibility: Pictured left to right: METRO VP Specialized Transit Services Auturo Jackson, METRO Director Contract Operated Services Jeremy Schoech, TIRR Senior VP & Chief Executive Officer Rhonda Abbott, METRO President & CEO Tom Lambert, TIRR VP & Chief Nursing Officer Nicole Harrison, METRO Manager Compliance Paratransit & Contracted Services Tonya Lawson, TIRR Sr. Marketing Representative Monica Byars, METRO Deputy CEO Tom Jasien.