June 2022 No. 29
Is This Really a Park & Ride Bus?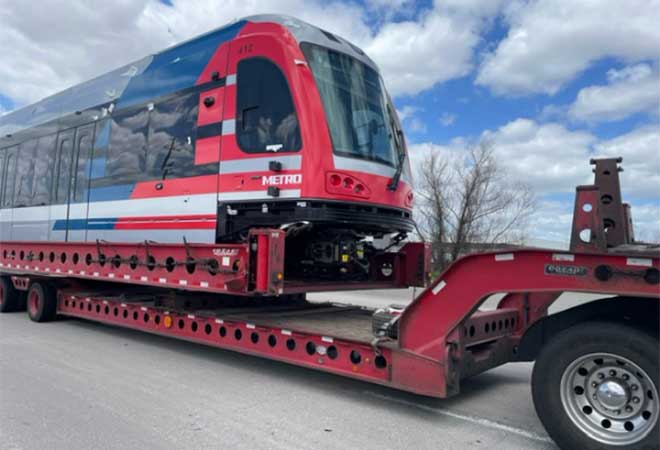 Have you ever wondered how METRO's light-rail vehicles (LRV) get from the factory floor to the tracks? It's a super-duty job that requires teamwork, patience, and a lot of planning!
By the end of the year, fourteen new Siemens S70 LRVs will join the METRORail stable, bringing the Authority's total to 81. The zero-emission vehicles will supplement LRVs currently servicing the city's three light-rail lines and help METRO reach its sustainability goals, ensuring Houstonians can easily access downtown, the Texas Medical Center, and other near town destinations with reliable and comfortable service now and into the future. Let's look at how they get here!
Each railcar set begins its life at the 60-acre Siemens Mobility Rolling Stock Factory in Sacramento, California. The facility, which has been in operation since 1985, manufactures rail vehicles for more than 30 transit agencies in the U.S. and Canada.
After a train is completed and ready for delivery, it embarks on a 2,000-mile trek from Sacramento to Houston, which takes about one week to complete. A coordinated team of employees and contractors from both METRO and Siemens works together to ensure the journey is successful.
At nearly 100 feet in length and weighing more than 100,000 pounds, an LRV must be carefully loaded onto a specially made tractor-trailer that will transport it halfway across the country. Pilot trucks must accompany the oversized load throughout its trip. It's a big haul.
Once the train reaches Junction, Texas — located about 150 miles west of Austin — it gets the VIP treatment and is met by MPD officers who help guide the caravan safely into town.
"It's really an impressive sight to see," said METRO Assistant Superintendent of Special Events & Construction Eddie Espinosa. "There's this massive convoy moving down the highway, complete with lights and sirens. It certainly gets a lot of double-takes as it makes its way into Houston."
Delivery day is an exciting time and METRO LRV Electronic Specialist Alan Tran is there to meet each new vehicle as it arrives at its new home, the METRORail Operations Center, also known as the ROC. Tran helps oversee the offloading process, which takes several hours to complete. Workers use a combination of industrial cable winches, and jack lifts to offload the massive vehicles carefully and precisely onto the track.
"Getting the train from the truck to the track is a group effort. It takes operators, LRV technicians, transport contractors, and Siemens workers to get it done," said Tran. "It's a meticulous operation, and safety is a priority."
Be on the lookout for METRO's newest LRVs. This new generation of S70s is expected to begin service this summer. Customers will find brand-new seating arrangements, which include extra foot room, better access through the center car, and additional wheelchair accessibility. The vehicle's HVAC systems now include fresh air dampers that automatically adjust based on the number of people in the vehicle, keeping compartments more comfortable for riders and increasing the HVAC system's efficiency. See you aboard!