April 28, 2022 No. 27
METRO Celebrates Earth Day Houston

From a farmer's market and a birds of prey demonstration to an electric vehicle "petting zoo," Earth Day Houston 2022 had something to offer everyone this year.
The event, held at Discovery Green, was sponsored by Green Mountain Energy and the Citizens' Environmental Coalition. This year's theme highlighted the city's importance as a bird migration hotspot. Houston area residents "flocked" to the festivities intended to educate, inspire and encourage action.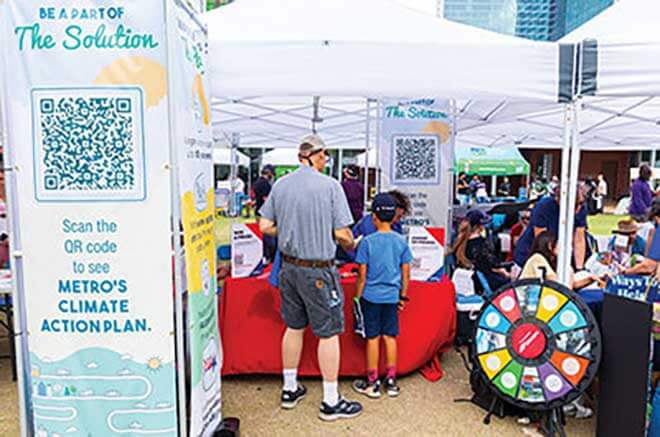 Guests to the METRO booth learned first-hand about the Authority's Climate Action Plan and electric bus initiative.
METRO was one of the dozens of exhibitors chosen to participate in the celebration. METRO Public Engagement Representative Stefani Farris said METRO's presence at the event was an opportunity to share what the Authority is doing as part of its commitment to sustainability.

"METRO cares about the community and the people it serves," said Farris. "It's important we get out to meet folks and show them all the things we're doing to ensure the Houston region is a cleaner, safer place for people to live, work, and play."
METRO booth visitors learned first-hand about the Authority's Climate Action Plan and electric bus initiative. They also got the chance to spin the "Wheel of Sustainability," a roulette-inspired game where players won prizes for correctly answering questions about METRO's sustainability efforts. Those who signed up for METRO's mailing list were also entered in a drawing for Amazon and METRO fare cards. In addition, Public Engagement team members handed out grab bags filled with seed packets, crayons, key chains, and other goodies.
Farris called the event a success and an excellent opportunity for people to learn more about METRO and the services it provides.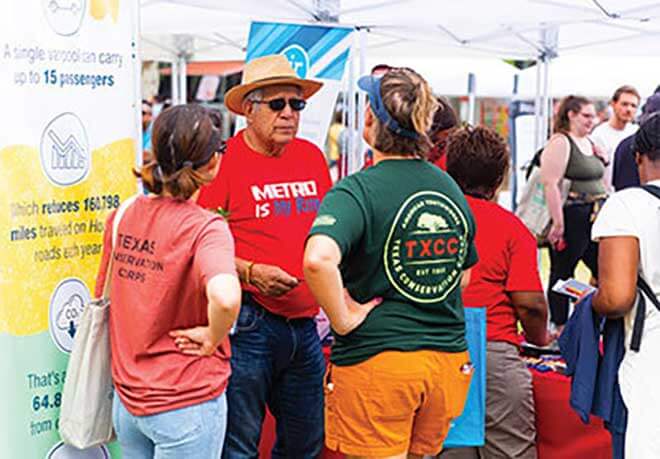 "Folks were really enthusiastic about learning how transit is a key component of a greener, more sustainable future," said Farris."