METRORapid Inner Katy Corridor Project
Enhancing Mobility.
Creating Connections.

This project is designed to benefit commuters in the Interstate 10 West and U.S. Highway 290 Northwest corridors.
The Inner Katy Corridor is the area along I-10 (Katy Freeway), between the Northwest Transit Center (at the junction of I-10 West and Interstate 610) and the Convention District area in downtown Houston.
Part of the METRONext Moving Forward Plan, this project aims to:
Develop a new METRORapid line running for 7.6 miles on I-10 West in the Inner Katy Corridor area, including stations at Shepherd/Durham and Studemont
Provide exclusive lanes for Regional Express buses using I-10 West and Hwy. 290 NW, allowing them to bypass the congestion on I-10 where there's currently no HOV lane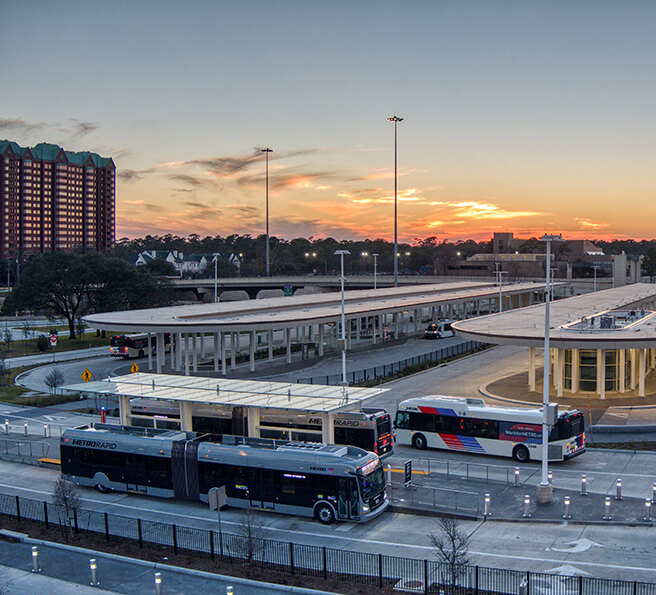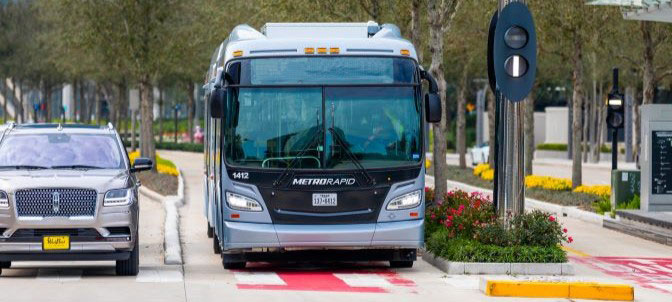 Project Benefits
Part of the METRONext Moving Forward Plan, this project will provide benefits across the region.
Overview
METRORapid is a transit service that combines elements of light rail and bus to deliver faster connections and a smooth, convenient ride.
It features:
Modern design offering 100% accessibility, with wider doorways and level boarding

Outstanding customer amenities such as station-like platforms at every stop
Dedicated, transit-only lane to move through traffic
Convenient schedule for easy trip planning
This project is part of the METRONext Moving Forward Plan, to create faster, more reliable and more frequent service. The project will:
Increase connectivity
Downtown and Uptown are two of Houston's largest employment and activity centers. Although METRO provides local bus service on city streets, there's no rapid transit connection between Downtown and Uptown.
Reduce congestion
The Inner Katy Corridor is one of the most heavily congested roadways in the Houston area. This affects both motorists and METRO Regional Express buses, which operate in mixed traffic where there's no HOV lane.
The new METRORapid Inner Katy line will provide:
Fast and frequent service
Universally accessible service for all between Downtown and Uptown throughout the day, at night and on weekends.
Faster and more reliable trips
The project will accommodate all METRO Regional Express trips along the I-10 West and Hwy. 290 NW freeways that currently get bogged down in traffic between I-610 and Downtown. Transit-only lanes in both directions will help reduce travel time and improve schedule reliability for thousands of current riders.
More connectivity
At Northwest Transit Center:
Create direct connection with METRORapid Silver Line so you can ride from Downtown to Uptown without having to transfer
Link with several METRO local and Regional Express routes – increasing connectivity to destinations like Texas Medical Center, Greenway Plaza, Memorial Park and Westchase
The project will also provide a fast connection between the METRORapid Silver Line and the METRORail Green and Purple Lines.
More access
Serve current riders
Accommodate expected population growth in this area
Improve access to jobs and economic opportunity
Route / Connectivity
The METRONext Moving Forward Plan identified a general alignment within the Inner Katy corridor. With input from community stakeholders, METRO conducted a detailed evaluation of the corridor and potential alignment options. The recommendation for the locally preferred alternative (LPA) was presented to the public for feedback in January 2022. METRO Board of Directors approved the LPA in March 2022.
The METRORapid Inner Katy Project is a separate project being developed by METRO. It will be designed to connect with the METRORapid Silver Line at the Northwest Transit Center and enable you to connect between Uptown and Downtown without transferring.
During the planning phase, METRO evaluated potential station locations between Northwest Transit Center and downtown Houston. We assessed the following locations identified in the METRONext Moving Forward Plan, which were ultimately included in the locally preferred alternative (LPA) approved by the METRO Board in March 2022:
Shepherd Street/Durham Street
Studemont Street
Theater District
Central Station
Convention District
We also evaluated additional potential station locations suggested by the community. Based on this input along with planning studies, the project's LPA also proposes stations at:

Memorial Park
Franklin Street / Bagby Street
St. Emanuel Street / EaDo (East Downtown)
Project Management
The project began in late 2020. The planning phase occurred from late 2020 through early 2022. Environmental studies occurred from early 2021 through late 2022 and will be followed by design. Construction is expected to begin about a year after design is complete. Construction completion and the beginning of service is expected in early 2028. Public and stakeholder engagement is ongoing and will continue throughout the timeline.
METRO is currently in the planning phase, evaluating the features of the project. Once an alignment (route) is determined, we will have more information.
This project is funded via the Houston-Galveston Area Council's Transportation Improvement Program.
Environmental
METRO doesn't expect an increase in air pollution. Any reduction in automobile travel as a result of having new transit options generally has a positive effect on air quality.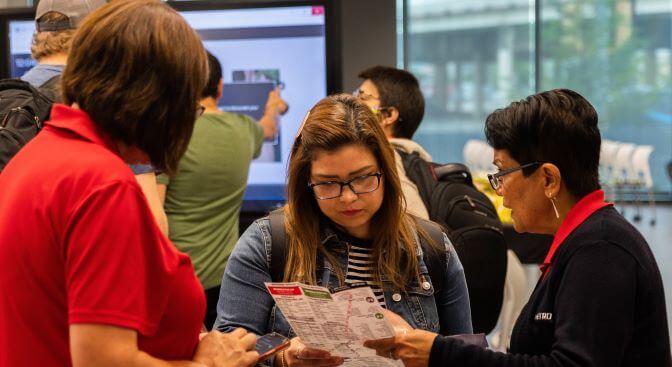 We Want To Hear From You
METRO relies on input from the community. Please take a moment to give us your feedback about the METRORapid Inner Katy Corridor project.
Events
At various times during the project, we'll be holding face to face and online public meetings to seek community feedback. When events are confirmed, a calendar listing will be posted here.
If there are no current listings, please check back soon.
Stay Informed
Register to receive updates about the METRORapid Inner Katy Corridor Project. Simply provide your email or mobile phone number.
Resource Center
Below, you'll find links to project-related materials and information. As rollout of the METRONext Moving Forward Plan continues, we'll add more items here to keep you informed on progress with the METRORapid Inner Katy Corridor project. Login credentials are not required to view any of the items shown below.

Public Meetings
Watch public meeting presentations.

Virtual Open Houses
View the Open Houses from 2021.

Project Status
Learn about the current phase of the project.
Additional Links
Click or tap on any of the links below to find out more information about related projects and programs.